Whether you are putting in a new closet or reconfiguring an old one, the key to an organized, roomy closet is a well-thought out plan. First of all, draw a layout of your closet to scale on a piece of paper. Be sure to include all dimensions.

Next, figure out how much, as well as what items, you want your closet to store. Allow one horizontal inch for smaller garments like skirts, pants, and blouses, and two or three inches for larger garments like jackets, sport coats, and suits. Each item should be allotted a particular space.

Keep in mind that you'll probably want to store like items together — for example, pants will hang in one area, while blouses will hang in another. Decide which items you would like to hang on hangers, which items you would like to store on shelves or in drawers, and which items can be hung on hooks. Consider using specialty hangers. Padded hangers help keep your sundresses with skinny shoulder straps from falling to the floor. Tiered skirt and pant hangers let you hang multiple items in a small space.
In order to use all of your closet space, see if there is an area — or several areas — in which there's enough room to hang a rod high enough so that another rod can be hung below it. Rods hung 36 inches or more above the ground can accommodate jackets, pants, and blouses.
In addition to planning for rods, you should plan for hooks, shelves, and hanging bins in order to maximize your closet space. You may be able to add space to a closet by adding a second shelf above an existing one. This higher shelf can be used to store infrequently used items! Instead of storing shoes on the floor, try freeing up floor space by using an over-the-door shoe rack. Or use the back of the closet door for tie, belt, and scarf hangers.
Be sure to plan for accessories as well. If you have larger spaces like bins or shelves in your closet, try dividing them up into smaller spaces in order to eliminate stacks and piles that are all too common in many closets. Home improvement and hardware stores carry handy shelf dividers that will make storing items like handbags, hats, and underwear easier and neater.
---
Copyright 2007-2021 Zeducorp.
All rights reserved.
About Us
.
Closet Storage - Closet Organization
Related Images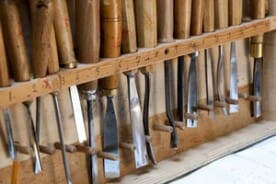 Carving Tool Storage Rack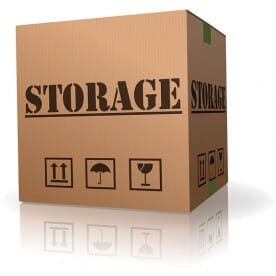 Storage Box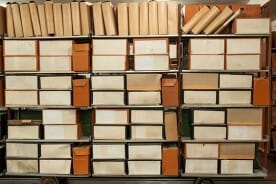 Archival Records Storage